Digital Touch Sensor
The Digital Sensor TTP223B Module Capacitive Touch Switch is based on a touch-sensing IC (TTP223B) capacitive touch switch module.
Specifications
Low power consumption
Power supply for 2 ~ 5.5V DC
Can replace the traditional touch of a button
Four M2 screws positioning holes for easy installation
Output Pin Sink Current (@ VCC = 3V, VOL = 0.6V) : 8 mA
Output pin pull-up current (@ VCC = 3V, VOH = 2.4V) : 4 mA
Model : TTP223B
Digital Touch Sensor TTP223B is the foundation of the Digital Capacitive Touch Switch Module. It typically maintains a low power state with a low output. It outputs high and enters the quick response state when a touch is detected on the circular marked region. It returns to the low power state after 12 seconds of no touch.
You can make the keys hidden in the walls and desks if the module is mounted on non-metallic surfaces like plastic, glass, or acrylic.
In addition to covering the module's surface with a thin layer of non-metallic paper, hidden buttons can also be made in the walls, desktops, and other areas of the device.
Click electrolytic for more similar product
———————-
What is a touch sensor?
A touch sensor is an electronic sensor used in detecting and recording physical touch. Also known as tactile sensors, it's a small, simple, low-cost sensor made to replace old mechanical switches we have seen in the past.
How does the touch sensor work?
A touch sensor works like a switch, where when there's contact, touch, or pressure on the surface of a touch sensor, it opens up an electrical circuit and allows currents to flow through it.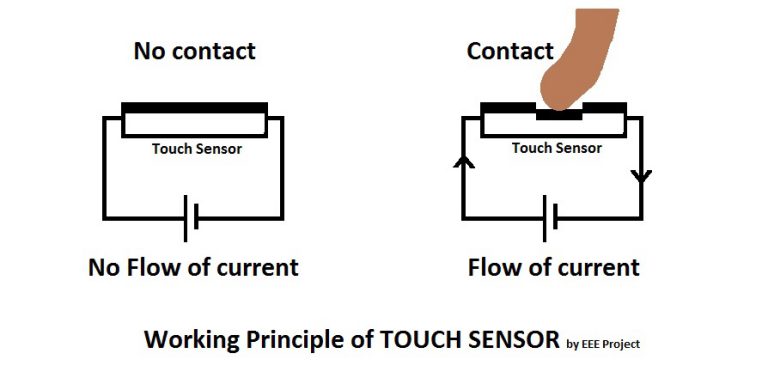 What is the touch sensor used for? Key Applications
As mentioned in my introduction, a touch sensor is used for a wide array of applications, with those being:
Touch sensor in robotics; a touch sensor is commonly used in robots, enabling basic movement and the ability to detect a touch in its surroundings (E.g. When the robot runs into something, the touch sensor can have it stop moving)
Smartphones, automotive, and industrial applications
Touch sensor faucet in kitchens; allowing for control of running water without having to physically turn the knob
Most other applications require pressure/distance measurement.